Posted by chiisai_hana in : food , comments closed
I grew up in a city with no Asian grocery store. It is a sad, sad fate for someone who loves Asian food. Thankfully though, both the cities I've lived in since provided fantastic Asian groceries stores within a half hour's walk from my door. And one of my favourite things to do when I'm stressed out is purchase random items from the candy aisle. I spent an entire year of undergrad paying almost $3 for a Kit-Kat bar every time I went grocery shopping – but the Japanese ones had so many intriguing flavours! Small joys, small joys.
For those of you without access to Asian grocery stores, there is now Candy Japan. For $24 a month, you can have random Japanese candy mailed straight to your door. There are two monthly packages, and the site ships anywhere in the world. Now obviously the site must be turning a profit, and I'm sure these are simply small samples that cost very little to actually ship. But this service? Is something I would've eaten up in high school! Plus I love the element of surprise involved (and getting packages in the mail, but who doesn't love that?)
Disclaimer: no, I haven't tried it. But I think this is a fantastic business idea and can definitely see the appeal in subscribing.
(As a side note, my current love is Vietnamese Banana Candy. So addicting.)
Posted by chiisai_hana in : food , comments closed
What better way to resurrect my blog than with a post about Japanese-style cooking? Anyone who frequents the Drama Recommendation thread might have noticed I have an interest in cooking. I'll confess to being a FoodNetwork junkie – and maybe there's been too many hours spent watching Michael Smith, but today I decided to take his advice and try "cooking without a recipe".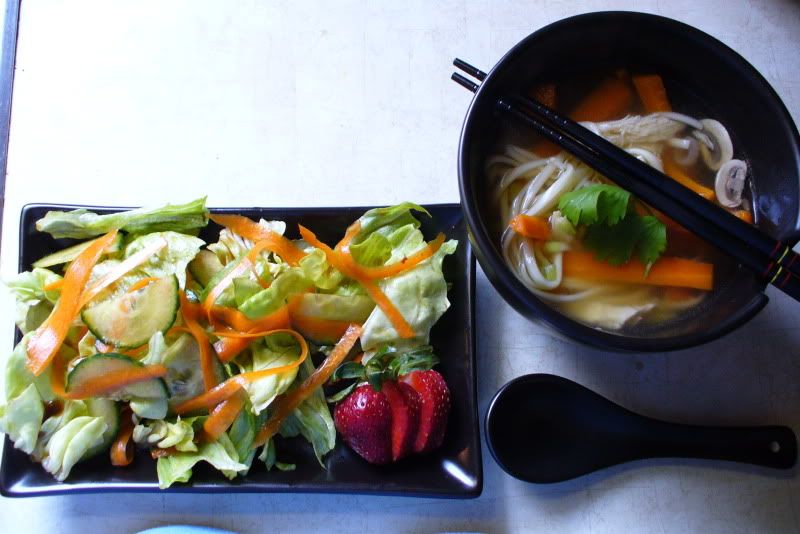 I'd picked up udon noodles at Williams-Sonoma back a few months ago. Unfortunately, I have yet to make it to a grocery store that sells dashi stock so I've begun to incorporate them in what is basically free-style chicken noodle soup. The salad features a dressing I adapted; the original recipe was for a sesame-soy oil dressing to which I added ginger and lemon (and sugar) to round out the taste.
It might not be completely authentic, but it was certainly an excellent lunch.