Posted by chiisai_hana in : food , comments closed
What better way to resurrect my blog than with a post about Japanese-style cooking? Anyone who frequents the Drama Recommendation thread might have noticed I have an interest in cooking. I'll confess to being a FoodNetwork junkie – and maybe there's been too many hours spent watching Michael Smith, but today I decided to take his advice and try "cooking without a recipe".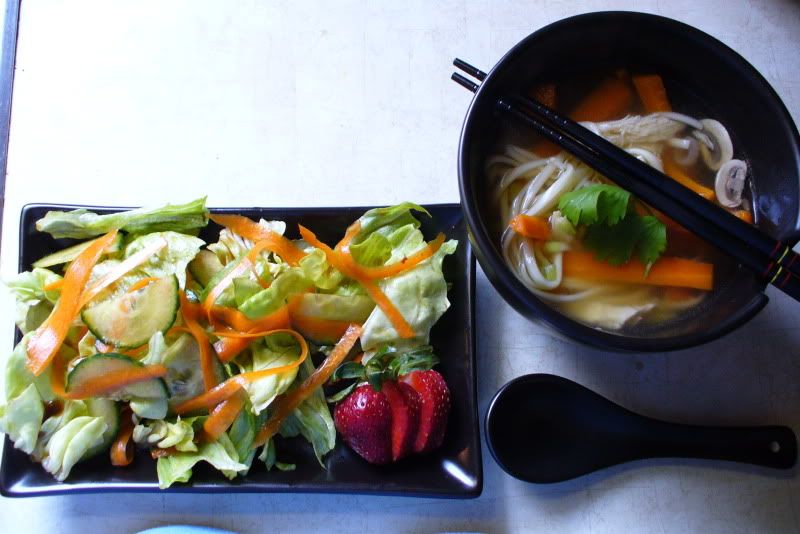 I'd picked up udon noodles at Williams-Sonoma back a few months ago. Unfortunately, I have yet to make it to a grocery store that sells dashi stock so I've begun to incorporate them in what is basically free-style chicken noodle soup. The salad features a dressing I adapted; the original recipe was for a sesame-soy oil dressing to which I added ginger and lemon (and sugar) to round out the taste.
It might not be completely authentic, but it was certainly an excellent lunch.
Posted by chiisai_hana in : manga , comments closed
Hetalia is an increasingly popular web-manga which is slated to get its own anime sometime in the future. The main story is set during WWII, and follows Italy, Germany and Japan. It's a historical-gag series that makes fun of the past by personifying the different countries and then playing off their stereotypes.
The manga appears to be targeting female fans (and doing a very good job of it) as the majority of countries were drawn as bishounen. Each country has its own personality and set of relationships, events usually referring back to a historical event. For example, in one comic the UK and Japan become friends, an indirect reference to their 1902 alliance. The manga has a ton of side stories and covers a broad historical range, some even in the present day. If you're into the cute shounen ai-esque style, you should definitely check it out. You may even learn a little history along the way!
PS: UK is a complete tsundere who may or may not have a crush on America. Just sayin'
-> Official Site (Japanese)
-> ANN news release on the anime
-> LJ community for manga/fanworks
Posted by chiisai_hana in : anime , comments closed
I don't have any experience in making Anime Music Videos, and at first I did find them an odd concept. And then I found good ones, and now hunting through endless links on youtube is a new form of procrastination when the paper writing gets old. So today I simply want to share some of my favourite links, and allow others to do the same in the comments.
My criteria is pretty simple. First, the song has to fit. Second, the AMV needs to be made with RAWs because subtitles are not only distracting, but sometimes counter what the lyrics say. And finally, there needs to be good timing. Simple and effective is all I need to be amused! And so, in no particular order I present a short list of my favourite videos.
The Melancholy of Haruhi Suzumiya: She's Just Oblivious [Haruhi]
Higurashi no Naku Koro ni: Crazy [warning: violence]
Junjou Romantica: Bella (twoja wina) [Egoist; warning: yaoi]
Ouran Host Club: Be Prepared [Kyouya]
Code Geass: True My Heart [dating sim OP]
Junjou Romantica: Under The Darkness [dating sim OP; yaoi]
The Melancholy of Haruhi Suzumiya: Skittles
The Melancholy of Haruhi Suzumiya: The Harassment of Kyon  [yaoi]